Store Finder
Panasonic Microwaves on sale in Sydney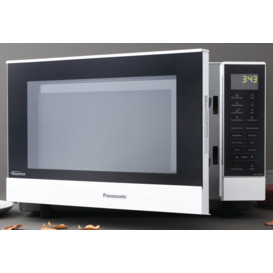 This Panasonic microwave oven has 1000 watts of power. It features 6 power levels, so you can zap a cube of butter at low power. The Panasonic NN-SF564WQPQ's inverter allows you to avoid cooked edges when you defrost burgers. You can easily set power levels and cooking times with its touch control panel. The Panasonic microwave oven features a white finish. Also, it has a 529mm width, a 326mm height, and a 422mm depth. Feed your ravenous kids before they get cranky thanks to this Panasonic micro...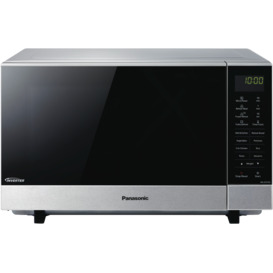 This Panasonic microwave oven has 1000 watts of power. It has 6 power levels, allowing you to avoid under- and over-cooking. Cook frozen casseroles edge-to-edge and top-to-bottom with the Panasonic NN-SF574SQPQ's inverter. Its touch control panel helps you auto-cook potatoes, fresh vegetables and more. The Panasonic microwave oven has a stainless steel finish. It features a 529mm width, a 326mm height, and a 422mm depth. This microwave oven is a good pick for cooking a variety of foods using the... Create outstanding meals without the need for multiple cooking appliances or cooking utensils using the Panasonic 27L 1000W 3-in-1 Convection Oven NN-CD58JSQPQ. Create a wide range of delicious meals just by using your microwave; grill, oven bake and cook thousands of different foods utilising one convenient and efficient product. Simultaneous combination cooking offers faster and greater results to cooking your favourite meals, grill and bake at the same one in one microwave. To assist with qui... This Panasonic microwave oven has 1100 watts of power. It has a 380mm turntable diameter, allowing you to heat large bowls of soup. Plus, you can warm breads on a low-setting to maintain their moisture with the Panasonic NN-ST75LBQPQ's 11 power levels. Its inverter helps you kiss overcooked edges goodbye. The Panasonic microwave oven features an auto sensor, so you can prevent over-cooking and burning. Also, it has a black finish. The microwave oven features a 555mm width, a 304mm height, and a ... This flatbed Combination Oven includes Turbo Steam and grill cooking as well as microwave, and oven baking options, which can be used simultaneously to prepare fresh food in a flash. With the benefit of steam cooking, you can reduce traditional oven cooking times without impacting on quality and taste of your favourite meals. The compact body features a sleek black design and pull down door to free up kitchen space, with the flatbed design (with no turntable) making it easy to wipe clean.... Be able to prepare a wide variety of home cooked meals using the Panasonic 31L 4-in-1 Convection Microwave NN-CS89LBQPQ. Reduce the number of appliances and cooking methods you use by utilising this 4 in 1 cooking device; steam, bake, grill and microwave all your favourite food without ever compromising on taste or quality. The powerful 1300W Convection Microwave comes with an in-built 800ml refillable water tank to steam delicious dumplings, fish, dim sims and more. Create meals using different...