Store Finder
Sharp Small Home Appliances on sale in Sydney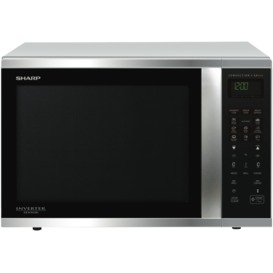 This Sharp microwave oven has 1000 watts of power. Its 362mm turntable diameter allows you to defrost multiple pieces of frozen chicken. And, you can settle cooking time dilemmas once and for all with the Sharp R995DST's 21 cook menus. It has 6 power levels, so you can warm breads on a low-setting to maintain their moisture. The R995DST microwave oven's inverter helps you cook frozen casseroles edge-to-edge and top-to-bottom. Prevent over-cooking and burning with its auto sensor. The R995DST has...


Had it up to here trying to thaw homemade pasta sauce on the stove? This Sharp 750W White Microwave can do all the hard work for you. With a 255mm turntable diameter you can easily heat up enough sauce to feed the whole family. And with the Sharp R210DW's six Auto Menus you can even cook the pasta itself in the microwave so you don't have to dirty any pots or pans. You can defrost dinner and then cook it without having to adjust the settings thanks to the Sharp R210DW's two-stage Sequence Cookin... This Sharp microwave oven has 1200 watts of power. It features 7 cook menus, so you can choose preset heating and defrosting for a variety of foods. Also, the Sharp SM327FHS's 6 defrost options let you get even results on frozen foods. You can zap a cube of butter at low power with its 11 power levels. The Sharp microwave oven has an inverter, so you can eliminate cooked edges on defrosted beef and chicken. Plus, its auto sensor lets you prevent over-cooking and burning. You can choose shortcuts... Sharps 1100w Midsize Smart Convection Microwave Oven is versatile for the whole family. This Microwave Oven can be used as an oven using the fan-forced Convection function, and also features a Smart inverter that reduces uneven cooking and hotspots.Additional Smart features include intuitive LED text display, sequence cooking and the ability to program 3 frequently used settings for quick and easy use. Also features a stainless steel cavity interior....