Store Finder
VS Sassoon Personal Care Appliances on sale in Sydney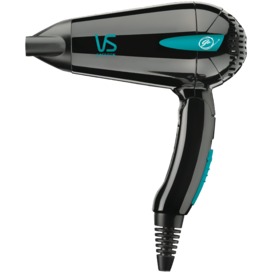 Lightweight and compact, with a full powered 2000 watts, dual voltage and a compact folding handle, the VS Sassoon Compact Travel Dryer is ideal for travel overseas, interstate or across town. Youll love this perfect travel companion that you can take around the globe. Never skip on a perfect blow-dry while travelling!...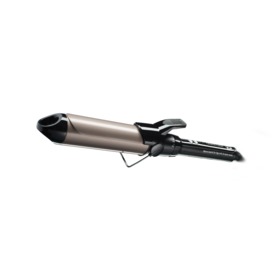 Professional 38mm Ceramic Curler to create big curls & loose wavesThis Ceramic Curler performs as well as it looks. The temperature dial is fast & easy to use and most importantly... it's capable of producing 25% higher instant heat for faster styling, adding more shine and delivering longer lasting results.Voluminous curls are a girl's best friend. If you want a show-stopping hairstyle, the 38mm Ceramic Curler is a must-have in your bathroom. Create effortless show-stopping soft, carefree volum...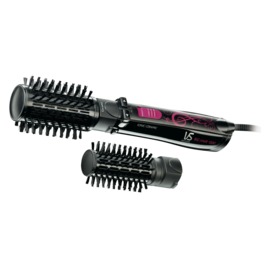 Fight frizz with the VS Sassoon Frizz Defense Rotating Hot Air Styler that combines a brush and hair dryer in one device so you can easily create a salon style blow-dry in your own home. This Frizz Defense VS2735GA styler uses Ionic Conditioning Technology to reduce frizz by releasing ions to eliminate static and condition the hair cuticle. A multi-directional, rotating ceramic barrel locks in and enhances shine for easy styling.Youll love the ease in drying, shaping & adding volume with this st... Powerful things come in small packages with the VS Sassoon Pocket Rocket Dryer VSD102A. You'll love the oh-so-cute compact size of this DC motor dryer, perfect to keep in your office drawer, throw in a suitcase or a gym bag.... The Beard Trim is a 2-in-1 precision beard & stubble trimmer for perfect facial grooming. Developed with an integrated precision trimmer for easily & effortless trimming of your stubble, beard & moustache + a foil shaver to sharpen & define your look. With an easy to clean hair capture system that captures hair while you trim, it's ideal for no bathroom mess. Cord/Cordless with a 60min cordless runtime or connect to mains power for corded use - trimming has never been so easy!... This VS Sassoon Curl Secret Optimum VSC1600A features a quick heat up time that varies between 8 and 12 seconds, depending on the selected temperature. Three curling directions with six heating temperatures between 180 and 230 degrees Celsius ensures this curler is effective for various hair types and thicknesses while allowing individualisation of the end result.... * Up to 45 Minutes Cord-Free Use** * Auto-Curl Technology, 3 Curl Directions* 3 Heat Settings (160C, 180C, 200C) * 4 Heat Times ... Coloured, hard-to-manage, moisture-stripped hair? Hydrate & replenish dull, dry hair with the Hydro Smooth Fast Dry's Advanced Plasma Conditioning Ions. The proven technology that leaves hair in better condition so that it feels healthier, glossier, smoother & frizz-free after consistent use.... Achieve a smooth salon-style finish on the go with the Pro Wanderlust AC motor travel dryer. Now theres no need to sacrifice your blow dry while travelling; ideal for across the globe, or just across town.... Discover the power of conditioning steam with 3x more steam* for long-lasting, poker straight hair that glows with shine & vitality. Steam infuses hair with moisture while transforming all hair types, textures & conditions; from damaged & colour-treated to hardest-to-style thick & afro-textured. VSS9900A has been tested by independent laboratories for clinical studies with 31 female users. Individual results may vary depending on environmental factors, hair texture and condition.... Escape for the weekend or an extended holiday with this ultimate styling set for stunningly beautiful hair wherever you roam. Pop the compact hairdryer & cordless straightener in the spacious vanity case, along with all your cosmetics, hair accessories, perfume & other holiday essentials.... Straight with the power of steam. Perfectly portable. Take this oh-so-cute corded style buddy on your travels or store this life saver in your office drawer, tote or gym bag for easy touch-ups. Embrace the power of conditioning steam technology for lasting poker straight styles on all hair types....