Store Finder
weight watchers Bathroom on sale in Sydney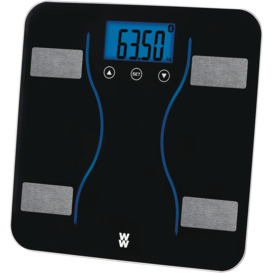 Take control of your health in an easy and fun way with the Weight Watchers Body Analysis Bluetooth Diagnostic Scale. Personalise your weigh-in by creating a user-profile, entering your age, height and gender in the scale for accurate body measurements. Then, simply sync your scale to the Weight Watchers Scale by Conair App and take a step onto the scale. Thanks to the scale's inbuilt Bluetooth technology, you can instantly view your detailed full-body analysis in the app, viewing your body fat,...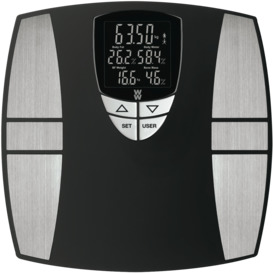 The Weight Watchers Bodyfit Smart Scale is the ideal fitness companion. This smart scale can easily measure and interpret your body's bio-impedance analysis while factoring in your age, height and gender. Create a user-profile to accurately measure your body fat in weight and percent, body water and bone mass; saving up to 8 user-profiles in its memory. Plus, for even more precise body analysis reading select your fitness level from moderately or highly active to fine tune your measurements. T...

Easily manage your weight with the Weight Watchers Body Analysis Smart Scale. This sleek and stylish bathroom scale allows you to measure your body composition and monitor your weight-loss over time using its bio-impedance analysis and advanced weight tracking system. Be empowered seeing the full picture of your body weight including your body fat, body water, bone mass, muscle mass and body mass index on the digital readout display. Navigate your way through your measurements on the WW scale an...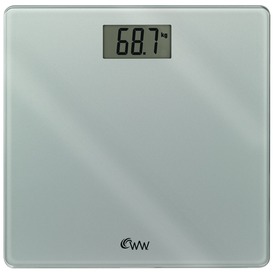 Stay motivated and on track with the Weight Watchers Bathroom Scale. It's easy to get started, simply tap the centre of tempered glass scale with your foot to begin your weigh-in. The digital readout display is easy to read and shows your weight in 0.05kg / 0.1lbs increments for precise weight measurements. Plus, you can personalise your scale with the 20 fun and inspiring stickers for that boost of encouragement to get you closer to reaching your aspirational goals. The WW scale is stylish and ...