Store Finder
Red Wine on sale in Sydney


Source de Junon evokes the myth of the fountain of youth and calls for a return to nature. Its voluptuously-shaped bottle mirrors the wine's elegance. Source de Junon comes from simple things in life, such as contemplating nature and sharing authentic moments. This Languedoc wine comes from organic vineyards, known from Louis XIV as a privileged place for rosé wines. The combination of two geological origins, schist and limestone, and the hilly terrain have created a complex network...
More pricing options...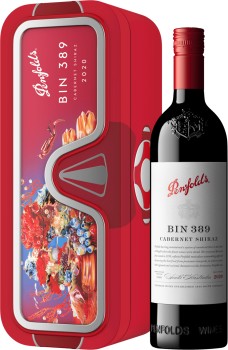 One of Australia's most cellared wines. Often referred to as 'Baby Grange' as it is matured in barrels that previous held Grange, it combines the structure of cabernet with the richness of shiraz. Encased in a limited-edition gift box, designed by interdisciplinary digital artist, Mikaela Stafford. Give No Ordinary Gift....
More pricing options...


This multi vintage Shiraz wine is richly flavoured with deep colour and displays dark berry fruit aromas, sweet plum and spicy flavours, silky tannins and a rich, velvety smooth palate. All small proportion of wine from clay/loam vineyards gives richness to the mid palate ensuring a seamless finish and persistent flavour....
More pricing options...


Taylors Discoveries Shiraz is a deep red with a vibrant purple hues, showcasing lifted fruit aromas of red currant, plum and a touch of spice. Subtle chocolate flavours and savoury characters from the oak maturation add complexity which balance perfectly the rich plum and spice on the palate. Soft and fleshy, with a silky smooth finish. Short term cellaring will reward, however able to be enjoyed immediately....
More pricing options...


Little Giant produces regionally focussed distinctive wines that consistently deliver the taste of South Australia in every glass proving great things come in small packages! A proud Platinum supporter of WIRES animal rescue, we ensure the continued welfare of wombats and their rehabilitation....
More pricing options...


Bursting with quintessential Pepperjack character, this Mid Strength wine displays aromas of blackberries and plums with hints of pepper and spice. The palate is rich, round, and soft with concentrated berry fruits and soft velvety tannins. BUT, is 50% lighter in alcohol than a standard Pepperjack Shiraz....


In 1847, the people of Krondorf began a wine industry that helped lay the foundation for what the Barossa is today. As custodians of this legacy, our winemakers craft modern expressions of signature Barossa varietals. Fresh aromas of raspberry and dark berry give way to bright flavours of redcurrants with a hint of spice. Elegant and refined with subtle oak, a persistent length and a supple tannin finish....
More pricing options...


Double Barrel Shiraz has a full and generous palate with a beguiling mix of sweet red fruits and dark chocolate indicative of its origins as Barossa Shiraz. Subtle toasty vanillin derives from aging in traditional French and American oak wine barrels. The careful use of aged Scotch whisky barrels for finishing has added complex nuances of almond-husks and also softened the dense tannins to yield an incredible smoothness....


Beresford pride themselves on passionately capturing the pure varietal expression and the essence of their terrior to deliver a Shiraz of timeless elegance and muscular complexity. Quintessentially McLaren Vale, the wine has a rich, full palate brimming with dark berry fruits, coffee and spice characteristics finishing with soft, lengthy tannins. A cracking wine of great substance and exceptional balance....
More pricing options...


The St Hallett Blackwell 2021 is crimson red with purple hues. Aromas of blackberry tart, lashings of berry coulis, fine cocoa and sweet spice elevate from the glass. Intense flavours of blackberry and mulberry are complemented by waves of milk chocolate and sweet baking spice flow across the palate. The supple tannins are well polished, persistent and complemented by the well-balance oak. This full bodied, rich and opulent wine is perfectly structured to ensure the wine will age gracefully thro...
More pricing options...


Californian Cabernet Sauvignon from Woodbridge.A blend of Cabernet Sauvignon with Shiraz and Merlot, employed to add complexity and balance to the palate, some ageing in French and American oak barrels also adds to the flavour spectrum. Appealing red and dark berry fruit character reminiscent of cherry and currant, backed by warm vanilla tones on a long smooth finish....
More pricing options...